Robotic Process Automation (RPA) is Changing Work, from CRM to Payment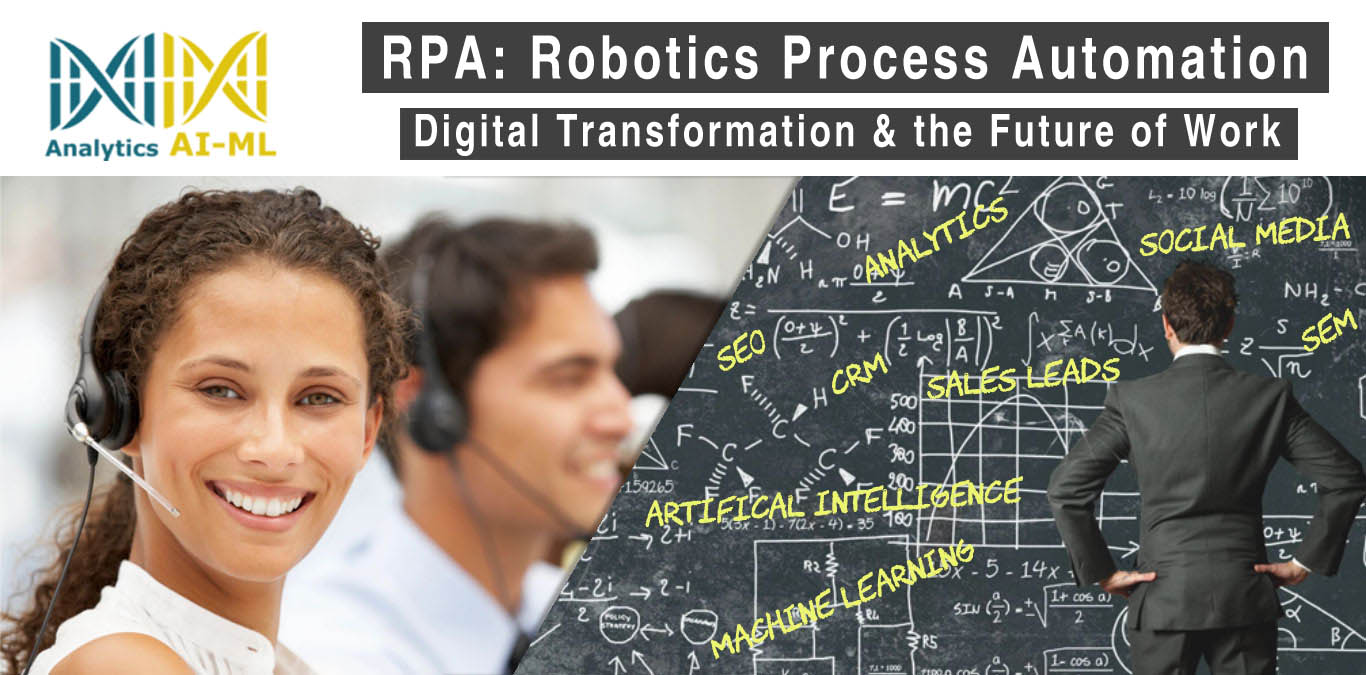 RPA (robotic process automation) is changing the nature of white collar work and is projected to have a $2 trillion economic impact, according to PricewaterhouseCoopers.  And while economic value figures associated with RPA vary by research firm, the consensus is that this field of automation is projected to grow 33% to 60% per year over the next seven years to an $8.75 billion market.  Initial successes have been seen in highly structured back office functions such as HR, finance, accounting and purchasing. However, front end robotic process automation is becoming a fast-follower.  If we consider the customer acquisition to payment value chain, which includes functions ranging from marketing and sales through to customer relationship management (CRM) and payment, there are opportunities for RPA to automate many time-consuming, repetitive tasks.
"In the near future we will speak of two types or workers: the human worker and the digital worker or 'bot'– and they will be colleagues, working side by side."
Robotics Process Automaton Benefits
These so-called RPA 'bots" can automate repetitive, rules-based tasks and free up people to do more engaging, higher value-added work. RPA provides three primary advantages across all industries and functional areas:
a 24×7 digital workforce;
error reduction; and
faster cycle times
More specifically, when we consider the sales prospecting to payment processing work-stream (SEO, online and offline marketing, social media posting, contact center operations,  sales force management and CRM activities, price quoting, invoicing and payment processing), we see several benefits of RPA: 
Improved employee training and on-boarding
Higher employee satisfaction
Greater transaction accuracy and lower error rates
Less re-keying of data among multiple contact center, CRM, sales and payment systems
Better customer self-service
Faster cycle times and greater efficiency in price quotes, invoicing, payment processing
Enhanced customer experience
Higher conversion rates and lower cost of customer acquisition
More time for employees to spend on higher-value and job enriching work
Robotics Process Automation Defined
According to The Institute for Robotics Process Automation and Artificial Intelligence, RPA is "the application of technology that allows employees in a company to configure computer software or a "robot" to capture and interpret existing applications for processing a transaction, manipulating data, triggering responses and communicating with other digital systems."
The leading pure-play RPA consulting firm, Symphony, defines RPA in this manner:
"Robotic Process Automation (RPA) is a capability (software and services) that allows you to transact in any IT application or website, typically in the same way a human would, to automate complex, rule-based work. The capability is usually comprised of a suite of software, a virtual infrastructure, and a methodology for designing, implementing and running the automation."
"…think of RPA as an Excel macro on steroids"
You might think of RPA as an Excel macro on steroids. In other words, RPA can mimic the simple (and increasingly more complex), repetitive tasks of humans and free them up to do more creative and job enriching activities. Already, these RPA bots are working alongside workers and aiding them in the completion of their daily tasks. In the near future we will talk of two types or workers: the human worker and the digital worker or bot– and they will be colleagues, working side by side.  The latter worker will assist the former and never get tired nor take lunch breaks or call in sick.
Any new technology will have its fits and starts, but RPA success stories abound:
AT&T's

 

RPA rollout has been part of a strategic initiative to

 

invest in people and retool employees.

 

AT&T uses RPA to help workers embrace technology. The company puts the bots in the hands of the workers, Workers are trained to create their own bots, giving workers control.  The company has deployed

 

400+ bots, returned

 

over $20 million

 

in value to the business and is now creating an average of a bot a day.
Xerox's European Finance unit attained 50-60% RPA automation

 

of back office invoicing, direct debits and intercompany accounting processes, which freed up workers to conduct more analysis and work more closely with internal customers. Additionally, Xerox was able to

 

improve financial controls

 

associated with SOX (Sarbanes-Oxley) compliance without adding additional cost.
ANZ

 

bank launched its 2017 RPA vision

 

to "radically simplify" its business processes  setting up a "process industrialisation team…to re-engineer our end-to-end processes in order to uplift customer experience, simplify our business and enable digitisation,"

 

a company spokesman explains.
A

 

national insurance company

 

is using RPA to respond to customers in real-time and increase sales conversion rates.
A

 

mining company

 

saved 30 human days

 

per year by automating journal postings
The robotic processing automation market is set to grow at a double-digit rates from 2016 to 2024.  While there have been growing pains, forward-thinking small businesses and multinationals are using RPA automation of simple back-office tasks as a first stepping stone towards full AI (artificial intelligence) machine learning.  In the coming months we expect to see an explosion in the number of successful RPA rollouts focused on online marketing, salesforce management, CRM, price quoting, invoicing and payment processing. Don't be left behind.